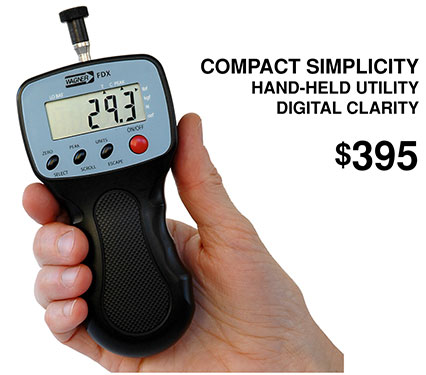 The compact Force Ten ™ FDX is a low cost digital force gage, rich in useful features, for routine force testing. Advanced simplicity indicates the abundance of features added to the inexpensive FDX Digital Force Gage.
By sharing Wagner FDIX Force Gage software, a touch of sophistication is added to the FDX with selectable peak sampling, auto-off power conservation and ±0.3% accuracy.
The FDX is intended for hand-held force testing with a comfortable pistol grip handle operating on a rechargeable battery for portable use or continuous AC power for stationary use.
Selectable Peak Sampling Rate - The basic function of the FDX, measuring static and dynamic forces, is enhanced with selectable peak sampling rates. The FDX offers 100/second for slow dynamic or static testing and 1000/second for high speed break testing.

FDX 10

10 x .01 lbf

160 x . 2 ozf

5 x .005 kgf

50 x .05 N

$395

FDX 25

25 x .02 lbf

400 x . 5 ozf

10 x .01 kgf

100 x .1 N

$395

FDX 50

50 x .05 lbf

800 x 1 ozf

25 x .02 kgf

250 x .2 N

$395

FDX 100

100 x .1 lbf

1600 x 2 ozf

50 x .05 kgf

500 x .5 N

$395

Included:
NiMH battery, AC adapter/charger, hook and flat, case,
manual and NIST Calibration Certificate.
FD/S-1

Steel Hook - Large (100 lbf)

FD/S-2

Flat Head - 5/8'' Diameter

FD/S-6

3'' Extension Rod

$20

FD/S-7

Hinged Hook - Large (100 lbf)

$45

FD/S-8

Hinged Cradle - Large (100 lbf)

$45

FD/RT

1 cm2 Flat Rubber Tip

$25

FDX/FP

3'' x 1 1/4'' Pressure Pad

$70

FDX/NIST

NIST Calibration Certificate

FDI/AC110

AC Adapter - 110 Vac+

FDI/AC220

AC Adapter - 220 Vac

*Included with FDX