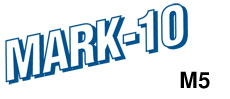 TENSION & COMPRESSION
CAPACITY: 1000 lbf / 500 kgf / 5000 N
USB/RS232/ANALOG/MITUTOYO
MESURLITE DATA SORTWARE
1000 DATA POINT MEMORY
FULL TEST STAND CAPABILITY
ACCURACY: ± 0.1% of Full Scale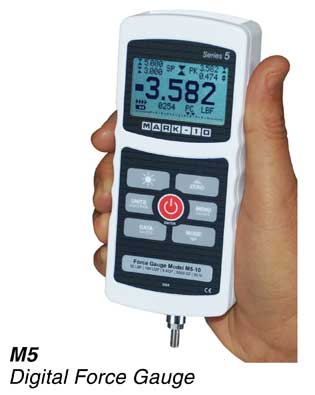 Made in America, the M5 Digital Force Gauge is the force sensor of the advanced ESM 301 Motorized Force Test Stand with a large backlit graphics liquid crystal display and simple menu navigation.
FEATURES
Large graphic liquid crystal display of:

Primary force reading - 6 digit
Peak force readings - maximum tension & compression
Set point force - programmed high & low settings
Load bar - visual analog indicator of applied force

Complete computer interface outputs - USB / RS232 / Analog / Mitutoyo.
High speed USB & RS232 to 115, 200 baud.
Analog ± 1 Vdc output for instantaneous control of external devices.
MESURlite data collection software and USB cable included.
1000 data point storage in memory with output to PC.
Statistical analysis - minimum, maximum, mean & standard deviation.
7000 Hz peak sampling of rapid occurring events.
Overload protection for motorized test stand.
Programmable force set points for pass-fail testing and external triggering.
Averaging mode - calculates average force over time.
External trigger - records activation force of switch closure.
CONSTRUCTION
Large backlit 6 digit graphic display.
American standard load shaft and mounting threads.
Reversible load shaft—up or down—maintains upright keyboard.
150% of capacity overload protection.
POWER REQUIREMENTS
Continuous operation with 110 or 220 Vac power adapter.
Rechargeable NiMH battery for up to 24 hours continuous use.
ACCURACY
Accurate to ± 0.1% of full scale ± 1 least significant digit.
WEIGHT & DIMENSIONS
1 lb. [0.5 kg]
6" [152 mm] H x 2.75" [70 mm] W x 1.8" [47 mm] D
09-1162
Cable, Multi-Function, M5 to Test Stand Controller
$125
09-1163
Cable, RS232, M5 to PC, 9 pin
$75
09-1164
Cable, Mitutoyo, M5 to SPC Printer
$75
09-1165
Cable, USB, M5 to PC
$30*
09-1166
Cable, Analog, M5 to Application
$75
* M5 includes USB cable, driver & MESURlite data software on CD.
15-1004
MESURgauge Force Testing Software
$495*
* Feature rich force testing software - force vs. distance analysis.
NOTE:1) MESURgauge DEMO download available at:
www.mark-10.com
2)MESURlite download available at: www.mark-10.com
m5_150115_dd