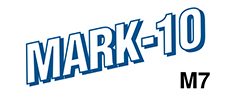 TENSION & COMPRESSION
CAPACITY: 1/8 lbf thru 500 lbf
FULL TEST STAND CAPABILITY
HIGH SPEED SAMPLING: 14000 Hz
5000 DATA POINT MEMORY
FORCE vs TIME AVERAGING
TEST SAMPLE BREAK DETECTION
CONTINUOUS DATA CAPTURE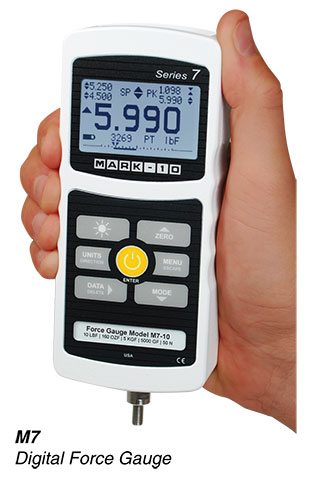 Made in America, the advanced 0.1% accuracy M7 Digital Force Gauge features a wide range of capacities from 0.12 to 500 lbf [ 0.5N to 2500N ], a 14,000 Hz sampling rate and a 3 year warranty.
The M7 is designed for advanced testing mounted on the ESM 301 or the ESM 1500 Force Test Stand for break tests, tensile & compression and many other special applications.
CONSTRUCTION
Large backlit 6 digit graphic display enabling direct visual gauge control.
American standard load shaft and mounting threads.
Reversible load shaft—up or down—maintains upright keyboard.
150% of capacity overload protection.
OPERATION
High-speed 14,000 Hz sampling rate.
Continuous data capture up to 5,000 data points up to 14,000 Hz.
Individual data point memory up to 5,000 data points.
USB, RS-232, Mitutoyo, and analog outputs.
1st / 2nd peak break detection with auto functions on ESM Test Stands.
Automatic output / data storage / zeroing upon various event completions.
Programmable foot switch command string.
Programmable set points, with indicators and outputs.
Averaging mode—calculates average readings over time.
External trigger mode—for switch contact testing.
Includes MESURLite data acquisition software—continuous or single point.
POWER
AC or rechargeable battery.
Multi-step low battery indicator; gauge shuts off automatically at low power.
ACCESSORIES
NiMH battery, AC adapter/charger, hook, flat, chisel, cone, V-groove, extension rod, case, USB cable, USB driver & MESURlite software on CD, manual and NIST Calibration Certificate with data.
ACCURACY
Accurate to ± 0.1% of full scale.
WEIGHT & DIMENSIONS
M7: 1 lb. [0.45 kg]
M7-200 & 500: 1.2 lb. [0.54 kg]
6" [152 mm] H x 2.5" [64 mm] W x 1.3" [34 mm] D
09-1162
Cable, Multi-Function, M7 to Test Stand Controller
$125
09-1163
Cable, RS232, M7 to PC, 9 pin
$75
09-1164
Cable, Mitutoyo, M7 to SPC Printer
$75
09-1165
Cable, USB, M7 to PC
$30*
09-1166
Cable, Analog, M7 to Application
$75
* M7 includes USB cable, driver & MESURlite data software on CD.
15-1004
MESURgauge Force Testing Software
$495*
* Feature rich force testing software - force vs. distance analysis.
NOTE:1) MESURgauge DEMO download available at:
www.mark-10.com
2)MESURlite download available at: www.mark-10.com
m7_140610_dd