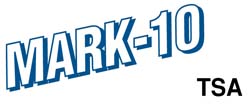 TENSION & COMPRESSION
CAPACITY: 750 lbf / 375 kgf / 3750 N
QUICK ACTION LEVER DRIVE
DIGITAL FORCE & TRAVEL DISPLAY
PRECISION RACK & PINION
ADJUSTABLE TRAVEL STOPS
HORIZONTAL VERSION AVAILABLE
ECONOMICAL PRICE: $995

Model TSA - Manual Lever Test Stand
Made in America, the TSA provides tension and compression testing to 750 lbf / 375 kgf / 3750 N with a quick action lever and rack and pinion elevating mechanism. The TSA includes adjustable travel stops and a low force friction brake. Adjustable wear plates maintain smooth precise motion.
Force data is displayed by a selection of digital force gauges - basic and advanced - providing computer output and many other features.
Travel data is displayed by a digital travel display with computer and SPC printer output.
MESURgauge force testing software provides easy set up and user friendly data logging and graphing of force vs. distance for spring testing.
CONSTRUCTION
Extruded aluminum column and lever/rack and pinion drive.
Column length of 25" [655 mm] is standard, other lengths available.
Adjustable upper and lower travel stops.
Low force friction brake holds ram in position.
Maximum vertical clearance: Approx. 10" [254 mm] depending on gauge.
Maximum vertical travel: 3.75" [95 mm] with stops: 6" [150 mm] no stops.
Maximum horizontal clearance: 3'' [76 mm].
Travel rate: 3'' [76 mm] per lever revolution.
OPERATION
Precise rack and pinion tension and compression testing.
Compression testing with 2'' [51 mm] diameter plate.
Tension testing with force gauge and test stand hook.
ACCESSORIES
Travel stops, 2" [51 mm] diameter compression plate, medium and large hooks, force gauge mounting and tool kit.
WEIGHT & DIMENSIONS
16 lb [7 kg].
25" [655 mm] H x 6" [150 mm] W x 7" [180 mm] D.
M Series
All Digital Force Gauges M3 / M4 / M5 / M7
*
09 - 1163
Cable, RS232, M5 to PC
$75
09 - 1165
Cable, USB, M5 to PC - Replacement
$30**
09-1048A
Cable, RS232, M5 to PC
$75
RSU100
Cable, RS232 to USB
$125***
* Refer to force gauge pages for model numbers and specifications.
** 09-1165 Cable included with all M5 Force Gauges.
*** Includes cable, driver and manual on a CD; converts RS232 to USB.