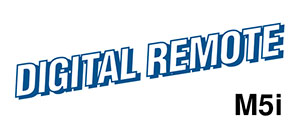 FORCE & TORQUE
INTERCHANGEABLE SENSORS
ONE DISPLAY – MANY SENSORS
COMPUTER INTERFACES
SELECTABLE UNITS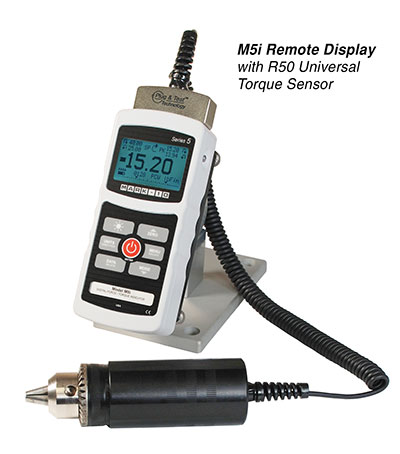 The unique M5i Digital Remote Force and Torque Gage features extreme versatility with several force and torque sensors available for quick attachment to the M5i display.
The various force and torque sensors offer a wide range of capacities extending from 1/4 lbf to 10,000 lbf of force and 10 ozf-in to 100 lbf-in of torque.
The M5i with its remote sensors uses the M5 Force Gauge display with a force or torque sensor attached by remote cable. Thus, the M5i provides the same operational features found on the M5 Force Gauge with the integral sensor now remotely located by cable.
CONSTRUCTION
M5i Display - Cast aluminum housing.
Coiled or un-coiled cable connects gage to sensor.
Sensors - Refer to individual specifications on the following pages.
OPERATION
Selected sensor attaches to M5i display for immediate use.
Selectable force units: lbf, kgf, gf or N.
Selectable torque units: lbf-in, ozf-in, kgf-mm, kgf-m, N-cm or N-m.
Peak sampling rate: 7,000 Hz.
Display rate: 2.5/sec.
Data outputs: USB, RS232, Mitutoyo, Analog ± 1 Vdc.
POWER REQUIREMENTS
Rechargeable NiMH 9V battery for 10 hours of use with 8 hour charge.
"Lo Bat" warning then gauge turns off.
Selectable auto shut-off, after 30 minutes of inactivity, conserves battery.
ACCESSORIES
Various output cables are available.
Hi / Lo limits indicator to set limit conditions for a test.
Set point cable for use with motorized test stands.
ACCURACY
Total System: M5i Display (± 0.1%) + Sensor (± 0.XX%). See individual sensors.
WEIGHT & DIMENSIONS
Weight: 0.7 lb. [0.3 kg]
Dimensions: 6" [152 mm] H x 2.5" [64 mm] W x 1.5" [38 mm] D