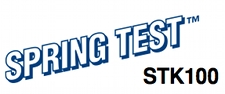 TENSION & COMPRESSION
CAPACITY: 100 lbf / 50 kgf / 500 N
LARGE 10" X 10" PLATFORM
PRECISION RACK & PINION
HANDWHEEL DRIVE MECHANISM
DIGITAL FORCE DISPLAY
DIGITAL TRAVEL DISPLAY
Made in America the STK100 Spring Tester provides a low cost manually operated tester for tension and compression springs. Precision machining ensures smooth movement and precise alignment of the rack and pinion elevating mechanism.

The STK100 is available with a close control handwheel for testing spring forces to 100 lbf. Force display is provided by the Wagner FDIX Digital Force Gage with six capacities from 2 through 100 lbf. Interchangeable Plug' N Play Force Cell Modules are available to change the force gage capacity of the STK100 at minimum cost.

Spring deflection is measured with a 1" digital travel indicator. Other travel indicators with a wide variety of features can be mounted.

A large 6" x 10" test area is provided with a pattern of mounting holes in the test area. Vertical travel is 11" with a generous 3" horizontal clearance. An adjustable collar is included to provide a stop point for the load beam.